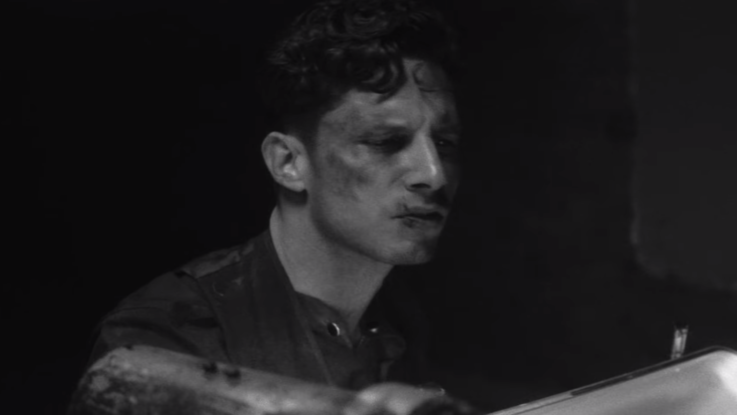 It's Devin Dawson at his darkest moment.
Devin Dawson's "Dark Horse" music video puts the country singer on the wrong side of the law, transporting him back to the 1920s where he's a hardened, slovenly criminal.
The first scene shows him in handcuffs, and from there we see policemen guiding him to get his mugshot as he sings his autobiographical song about being an outcast. Directed by Justin Clough, the music video is in Dawson's signature black and white and recalls a Johnny Cash style.
Dawson is dirty and covered in scars, telling the viewer that he's scrappy and not to be messed with. Cops soon move him to an interrogation room, where he undergoes a polygraph test. That room becomes a recording studio — a metaphor, perhaps? — and we see Dawson belting the track into a microphone. By the end of the song, he's back in the interrogation room, but this time by himself.
Dawson tells Billboard that during the writing process for his album, 2018's Dark Horse, he wanted a sort of 'Who I am' song.
"I was writing with two of my best friends, Andrew Albert and Andrew Deroberts. There was no pressure to write that song anymore because I had already kind of given up on writing it. I'd already said, 'Maybe that's not right for me, maybe that's not right for this record,'" he recalls. "We sat down, and somebody had the title 'Black Horse,' because I'm obsessed with the color black, and I was just like, 'I don't know if that's right. Why don't we just go for 'Dark Horse'? I don't care that it's a George Harrison song, I don't care that it's a Katy Perry song. We're gonna do it in our own way.'"
This Article Was Originally Posted at www.TasteofCountry.com
http://tasteofcountry.com/devin-dawson-dark-horse-music-video/