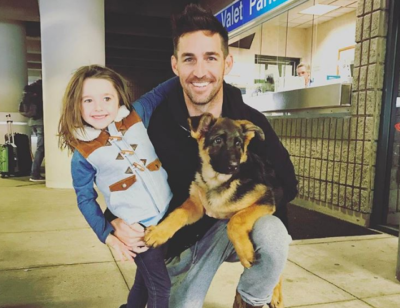 Halloween and pets sometimes don't mix, a fact Jake Owen seems to have learned the hard way this year.
Like many of us last week, Jake Owen got into the Halloween spirit and dressed up for the holiday. His costume? The teddy bear from the movie Ted.
Unfortunately, while the singer may have looked festive to most of us, Jake's nearly 1-year-old German Shepherd Axel didn't think Jake was cute at all. Instead, the poor pup saw the 6 foot tall teddy bear as something he definitely didn't want to be around and apparently decided fight was a much better plan than flight.
Jake shared a sweet and calm picture of him sitting on the floor in his costume with both of his dogs, but the picture was definitely deceiving because, as he captioned photo: Five minutes before this pic was taken Axel (German Shepherd) literally attacked me in this suit. Guess I shouldn't of snuck up on him. Happy Halloween. -Ted
Yikes!
This Article Was Originally Posted at www.NashvilleGab.com
http://feedproxy.google.com/~r/Nashvillegab/~3/SimJTB9DErc/jake-owen-got-attacked-dog-halloween.html