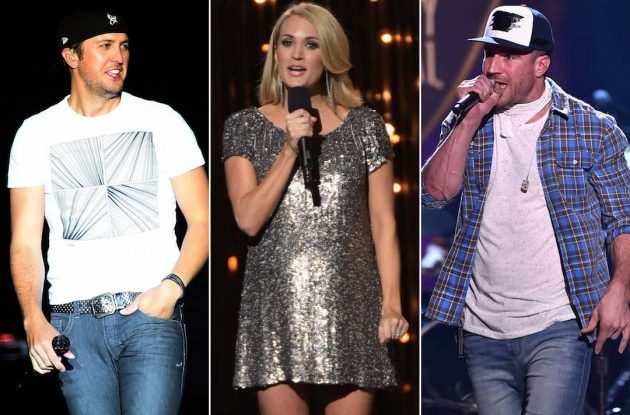 Getty Images
The 2010s aren't even over yet, but they've already given country music fans plenty of spectacular music to hear.
The past several years have seen veteran artists such as Keith Urban and Carrie Underwood continue to churn out some of the best music of their careers. They've also seen newer artists such as Thomas Rhett and Sam Hunt establishing themselves as both respectable songwriters and song-selectors.
From heart-tugging ballads to tunes that make their listeners want to dance, the best country songs of the 2010s (so far) make us proud — really proud — to be fans of country music.
10
"That's My Kind of Night" (2013)
This multi-platinum single, from Bryan's third album, 2013's Crash My Party, stayed at the top of the charts for 11 consecutive weeks. Written by Ashley Gorley, Chris DeStefano and Dallas Davidson, the feel-good party tune became the moniker for Bryan's second headlining tour and sealed his status as a superstar.
[embedded content]
9
"Nobody to Blame" (2015)
Stapleton co-wrote "Nobody to Blame" and included it on his freshman album, Traveller; the song, which became Stapleton's first Top 10 hit, laments the mistakes that resulted in a breakup. Although Stapleton had written plenty of hits for other artists — Kenny Chesney, Josh Turner, George Strait and others — it was "Nobody to Blame" and its predecessor, his first record's title track, that made people notice Stapleton as an artist himself, and resulted in the singer winning a handful of trophies, including three CMA Awards.
[embedded content]
8
"Something In the Water" (2014)
Underwood co-wrote "Something in the Water" with Chris DeStefano and Brett James, for her 2014 Greatest Hits album. A redemptive song about finding a second chance in life by experiencing baptism, the inspiring single — made all the more powerful by Underwood's soaring vocals — earned the superstar a Grammys trophy for Best Country Solo Performance.
[embedded content]
7
"Humble and Kind" (2016)
Intended to be a love letter to her children, "Humble and Kind" was written by Lori McKenna while she was sitting at her dining room table. She never dreamed that it would turn into one of the biggest hits of her songwriting career.
"I was thinking about what we want the kids to know, and honestly how they don't always listen to the things we say," McKenna tells The Boot of the inspiration for the song. "I just thought, 'I'm going to write it down.' Honestly, it's a very simple song, and it's really just this list of things that I wanted to make sure we told them, in this rhyme form."
McGraw included "Humble and Kind" on his 2015 album, Damn Country Music, and McKenna later released it on her own record, The Bird and the Rifle. The song won both of them numerous awards, including Best Country Song at the Grammys and Song of the Year at the CMA Awards.
[embedded content]
6
"Die a Happy Man" (2015)
"Die a Happy Man" was the second single from Rhett's sophomore album, Tangled Up, and it's one of his most personal songs. Co-written by Rhett, the tune was inspired by his wife Lauren, who wanted her husband to write a song like "Just to See You Smile" by Tim McGraw.
"I think the reason it translated so much is because every single line in the song is directly personal to our relationship and our marriage," Rhett shares of "Die a Happy Man," which was  nominated for a Grammys trophy. "I think my fans looked at that and saw it as very genuine, which it was, and I think that's the reason it was so successful. It was one of the most fun songs I ever got to write."
[embedded content]
This multi-platinum-selling, multi-week No. 1 hit is, in some ways, autobiographical for Church; however, the artist he was seeing wasn't Bruce Springsteen.
"I went to a concert when I was younger with a girl, and to this day, when I hear that artist, it's the soundtrack to that girl. I never think about her any other time, except when that song is on," Church tells The Boot. "That's where the "Springsteen" came from, and he seemed to be the perfect guy to craft that story around because of my love for him … I have such a reverence for Bruce Springsteen's career and how he's built it."
[embedded content]
4
"You Should Be Here" (2015)
Swindell earned his fifth consecutive No. 1 hit with "You Should Be Here," which was the title track of his sophomore album. Written with Ashley Gorley about the loss of Swindell's father, the song — along with its heart-touching, personal video — became an anthem for others who have experienced personal loss.
"I'm not the only one who has ever lost somebody; I'm not the only one who was missing somebody," Swindell tells The Boot. "That's what I love about country music, that's what I love about songwriters, is being able to put out those words, those feelings. From the first lyric and note of the song, it's got that feeling about it, and that's what we tried to do."
[embedded content]
3
"The House That Built Me" (2010)
"The House That Built Me," written by Tom Douglas and Allen Shamblin, was originally intended for Lambert's then-boyfriend, Blake Shelton. However, "I heard this song and I cried for two hours," Lambert recalls.
"When a song hits you like that, you know it's gonna affect other people the same way … I don't really cry when I listen to music, but that song definitely hit me really hard," she adds. "[So,] I asked Blake if I could have it."
"The House That Built Me," which was Lambert's first No. 1 hit, received Best Female Country Vocal Performance at the Grammys.
[embedded content]
2
"Body Like a Back Road" (2017)
"Body Like a Back Road" was Hunt's first single from his still-unannounced sophomore album, but if its success is any indication, his next record will be a smash. Inspired by his then-girlfriend Hannah Lee Fowler (whom he wed in April of 2017), the song was written by Hunt, Zach Crowell and Shane McAnally; the track was intended to "lighten up" what was turning into a heavy disc.
"Body Like a Back Road" stayed on top of the Billboard Hot Country Songs chart for more than 25 weeks, setting a new record.
[embedded content]
Controversial to some, but loved by almost everyone — that's "Girl Crush." Its painfully honest lyrics — "I want to taste her lips / Yeah, cause they taste like you / I want to drown myself / In a bottle of her perfume" — come from a unique point of view; because of some misinterpretations, "Girl Crush" was pulled from some stations' airwaves due to listeners' protests, but that opposition certainly didn't affect the song's success.
Written by Lori McKenna, Hillary Lindsey and Liz Rose, "Girl Crush" appears on Little Big Town's 2014 album Pain Killer. It became a multi-platinum No. 1 hit, and landed in the Top 30 on the pop charts as well. In addition, the song earned LBT trophies at both the Grammy Awards and the CMA Awards.
[embedded content]
This Article Was Originally Posted at www.TheBoot.com