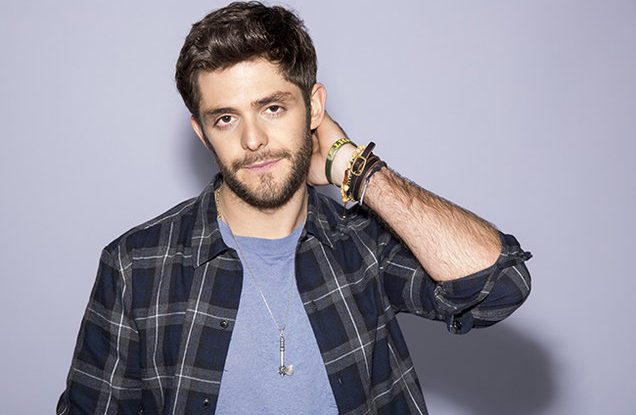 [embedded content]Subscribe to Taste of Country on
Thomas Rhett admits he's a big fan of Game of Thrones and the most famous contact he has in his phone during a segment of Internet Pop Quiz for The Tonight Show Starring Jimmy Fallon. 
Before his appearance on the late-night show, the country superstar sat down to answer some of the internet's most burning questions and we learned a few interesting tidbits about the star. It turns that his most binge-watched show is Game of Thrones, as in he and wife Lauren once spent seven hours in one day watching the intense HBO show.
"It's pretty terrible," he admits, adding that Kit Harrington and Emilia Clarke — who play popular characters Jon Snow and Daenerys Targaryen, respectively — are his favorite people to follow on Instagram.
The "Die a Happy Man" singer also shares that he once spent a whopping $300 dollars on an online Taco Bell order. "I feel like that's a bit absurd to spend at Taco Bell considering everything is less than five bucks," he says with a smile.
Thomas Rhett Shares How Family Inspired New Song, "Life Changes"
[embedded content]Subscribe to Taste of Country on
Fans may also be surprised to learn the most famous celebrity contact in his phone is Ashton Kutcher, who briefly visited the country world when he presented at the 2012 ACM Awards and 2017 CMT Awards. Watch the video above to find out what his favorite weird YouTube video is, what's on his workout playlist and more.
Rhett's new album, Life Changes, includes the No. 1 song "Craving You" featuring Maren Morris and current single, "Unforgettable." "We kind of told the story of, basically, it could be a boyfriend or it could be a husband, describing to his wife all these amazing details that she probably thought he'd forgotten about," Rhett tells the Tennessean about the track.
Life Changes dropped on Sept. 8.
These Pictures Prove Thomas and Wife Lauren Are Meant to Be
We Promise You've Never Seen a Cover Quite Like This!
[embedded content]Subscribe to Taste of Country on
This Article Was Originally Posted at www.TasteofCountry.com