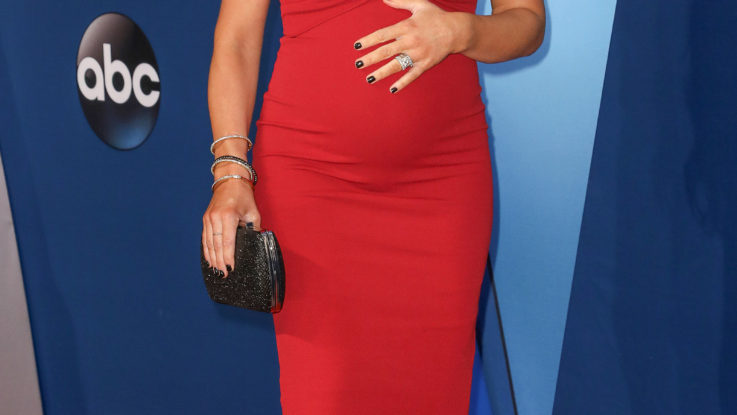 Jessie James Decker is one dazzling mama-to-be.
On Wednesday night, the 29-year-old country-pop star stepped out to attend the 51st Annual CMA Awards in style, looking stunning in an off-the-shoulder cranberry-colored dress that showed off her growing baby bump.
"[I'm already thinking about] taking my shoes off at the end of the night … I'm such a nester," she said on The CMA Awards: All Access livestream.
Added the star, who is pregnant with her and husband Eric Decker's couple's third child, "Any time you get us out of the house, it's an ordeal. I'm always thinking about getting home."
Want all the latest pregnancy and birth announcements, plus celebrity mom blogs? Click here to get those and more in the PEOPLE Babies newsletter.
Curtis Hilbun / AFF-USA.com
RELATED VIDEO: Jessie James Decker On How Daughter Vivianne Pushed Her and Eric For Baby No. 3: "She Would Pray [Every Night] for a Brother or Sister"
Jessie and her Tennessee Titans wide receiver husband are already parents to son Eric "Bubby" Thomas II, 2, and daughter Vivianne "Vivi" Rose, 3½ — and the singer doesn't seem too concerned about making the jump from a family of four to five.
When talking to Mini magazine earlier this month, Jessie explained that she thinks the hardest part of expanding her family is already behind her. "I have heard that one to two is the biggest hurdle," she explained. "I'm not too worried about it."
Last month, the stars of Eric & Jessie: Game On revealed the sex of baby No. 3 in an adorable video posted to Jessie's Instagram. In the clip, Eric and Jessie can be seen helping their two children open a box filled with balloons colored blue to reveal that they are expecting another baby boy.
FROM PEN: Former Bachelorette Emily Maynard Johnson Says She Wants 2 More Kids to Up Her Total to 5

RELATED: Jessie James Decker Says Her and Eric Decker's Son on the Way Is "Our Last" Baby
According to Jessie, a third baby was always in the cards for her and Eric. "I think we've always felt like we wanted three children," Jessie told PEOPLE back in August. "I came from a family of three kids."
"[For Eric], it was just him and his sister, and he said he always felt like they were missing a sibling and he wishes [his parents] would have had three," she continued. "So I just didn't want Vivi or Bubby to feel like they wish they had another sibling."
The 51st CMA Awards will be held at Bridgestone Arena in Nashville on Nov. 8 at 8 p.m. ET. The show will air live on ABC.
This Article Was Originally Posted at www.People.com
http://people.com/babies/cma-awards-2017-jessie-james-decker-red-carpet-baby-bump/