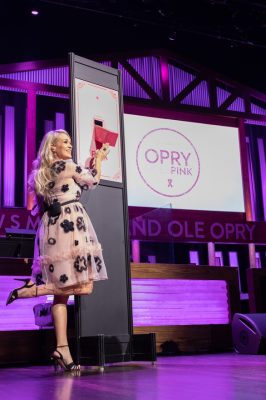 Opry Goes Pink as Superstar Carrie Underwood "Flips The Switch" On The Opry's Signature Barn As Part Of A Two-Show 10th Edition of Opry Goes Pink In Support Of The Fight Against Breast Cancer
The Grand Ole Opry® partnered with Susan G. Komen® Foundation this evening as part of the special two-show 10th Edition of Opry Goes Pink. Opry member and Capitol Records Nashville's superstar Carrie Underwood, who flipped the switch on the inaugural Opry Goes Pink in 2009, returned to flip the switch on the Opry's signature barn backdrop, turning it pink to celebrate survivors and raise awareness for the fight against breast cancer.
Underwood and others including artists and breast cancer survivors Anita Cochran, Karen Mills, and Rita Wilson (who just made her Opry debut Tuesday night), as well as Ronnie Milsap, Riders In The Sky, and more performed in support of breast cancer awareness and raised funds for Susan G. Komen®'s Nashville chapter. Gone West featuring Colbie Caillat made their Opry debut on the special show.

"Every time I get to step out on the Opry stage is an honor, but tonight was extra special. When I flipped that switch and saw the Opry barn light up pink, it was just overwhelming and powerful knowing what the night meant for so many women," said Carrie Underwood. "It was so beautiful to see so many survivors in the audience and backstage, and to be able to celebrate them and their fight."

The evening kicked off with Anita Cochran cutting a pink ribbon and leading a pink carpet walk into the Grand Ole Opry House. Breast cancer survivors and members of their support networks were followed by fans on the carpet, all pledging to support the fight against the disease.

The Opry is donating $5 from each ticket sold since the announcement of tonight's shows to the Susan G. Komen® Foundation.

About the Grand Ole Opry

The Grand Ole Opry
®
is presented by Humana
®
. Opry performances are held every Friday and Saturday of the year, with Tuesday night shows through December 11. To plan an Opry visit, call (800) SEE-OPRY or visit
opry.com
. The Opry presents the best in country music live every week from Nashville, Tenn. Celebrating nine decades of entertainment, the Opry can be heard at
opry.com
and
wsmonline.com
, Opry and WSM mobile apps, SiriusXM Satellite Radio, and its flagship home, 650 AM-WSM. The Grand Ole Opry is owned by Ryman Hospitality Properties (NYSE: RHP). For more information, visit
opry.com
.
This Article Was Originally Posted at www.CountryMusicNewsBlog.com
http://www.countrymusicnewsblog.com/opry-goes-pink-as-superstar-carrie-underwood-flips-the-switch/
For All Your Country Music News in Florida including Florida Country Music Concerts and Events, Visit www.FlCountry.com Country Music in Florida