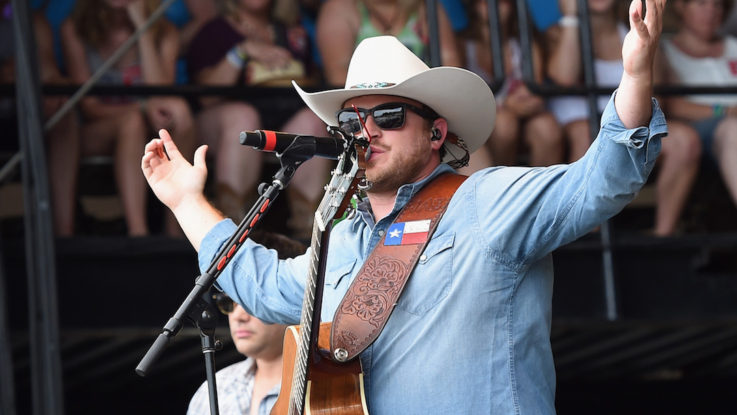 Rick Diamond, Getty Images
Josh Abbott, frontman of the Josh Abbott Band, started tweeting as shots began ringing out at the 2017 Route 91 Harvest Festival late Sunday night (Oct. 1). His urgent request? "Say some prayers."
The Josh Abbott Band played on the festival's main stage on the third and final day. Kane Brown, Big & Rich, Jake Owen and Jason Aldean followed their set. While Aldean was closing out the event, Abbott tweeted at 10:17PM ET: "Active shooter by us in Vegas. Say some prayers."
A long 50 minutes later, he checked in and confirmed, "Everyone in JAB is accounted for. They evacuated us from Mandalay [Bay Resort and Casino]." Abbott is recently engaged to Taylor Parnell, with whom he has a young daughter, and in his tweet, he added that she was still in their hotel room.
"They won't let me in," he said, "but she's safe."
Country Stars Respond Following Route 91 Harvest Festival Shooting
At least 58 people are dead and more than 500 are injured following the shooting. The shooter, 64-year-old Stephen Paddock of Mesquite, Nev., opened fire from his 32nd-floor hotel room at the Mandalay Bay Resort and Casino. What ensued is the deadliest mass shooting in U.S. history.
On Monday morning (Oct. 2), Abbott shared via Twitter, "Update: I got back to Taylor & our room in Mandalay about 30 minutes ago. The rest of the band & crew are home now. Was a long awful night." He then added, "I'll never un-hear those gunshots; and our band & crew will never forget how that moment made them feel. Our hearts are with all the victims."
Other country singers, both performers and non-performers at the festival, have weighed in on the tragedy. Additional artists who performed at the Route 91 Harvest Festival include Chris Young, Jake Owen, Sam Hunt, Eric Church, Maren Morris, the Brothers Osborne and Luke Combs, among others.
Country Songs Inspired By World Tragedies
This Article Was Originally Posted at www.TheBoot.com
http://theboot.com/josh-abbott-band-route-91-harvest-festival-shooting-tweets/