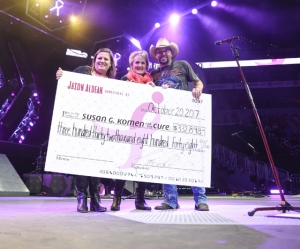 http://images.tritondigitalcms.com/6616/sites/1446/2017/08/03151322/Jason-Aldean.jpg
Jason Aldean brought his annual Concert for the Cure to the KFC YUM Center in Louisville, Ky., on Oct. 20 as part of his They Don't Know Tour.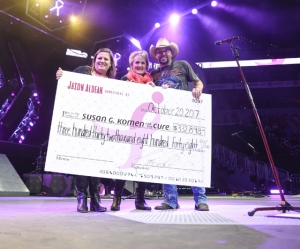 photo by Stephen Cohen Photography
Since 2004, Jason has helped raise more than $3.6 million to benefit Susan G. Komen chapters across the country.
Susan G. Komen organizations fund more breast cancer research than any other nonprofit, while providing real-time help to those facing the disease.
By donating a portion of his tickets sales throughout the year, Jason raised $332,848 in 2017 for Komen Kentucky.
"These women and their families are fighters," said Jason. "We've been having them backstage every night for the last couple years now and I've heard their stories first-hand. We're going to keep fighting with them until there's no more breast cancer."
Chris Young, Kane Brown and Dee Jay Silver joined Jason as performers at the 2017 Concert for the Cure.
This Article Was Originally Posted at www.NashCountryDaily.com
http://www.nashcountrydaily.com/2017/10/23/jason-aldean-helps-raise-more-than-330000-at-concert-for-the-cure-to-benefit-susan-g-komen-organization/