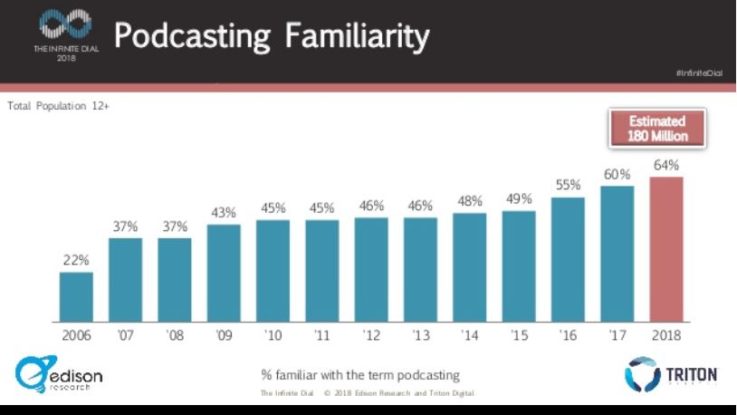 New Findings
The two most talked-about sectors in audio today – podcasting and Smart Speakers – post significant gains in this year's INFINITE DIAL study from EDISON RESEARCH and TRITON DIGITAL.
Podcasting continues to steadily grow, as 44% of AMERICANS 12+ now say they have ever listened to a podcast, up from 40% from last year. Podcasting's in-car gains continue as well; a year ago, 18% of podcast listeners described the car as the place they most often listened to podcasts, while this year, that number is 22%.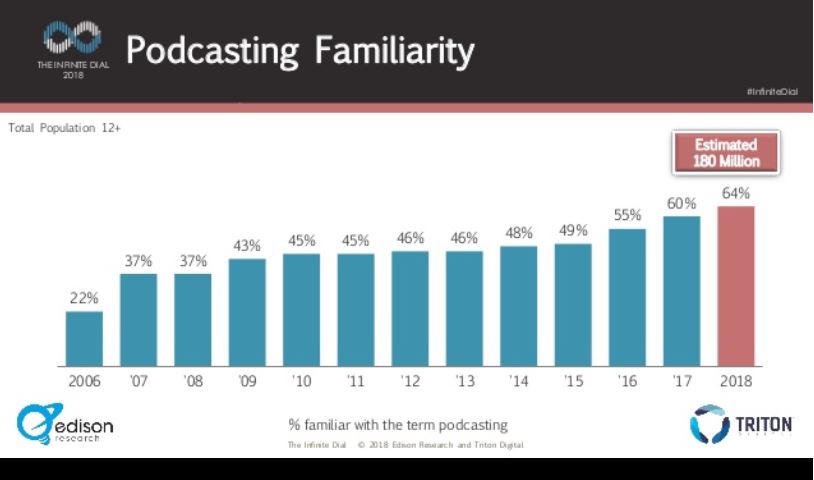 The 2018 INFINITE DIAL study, the latest report in a series dating back to 1998 that covers consumer usage of media and technology, has tracked many new platforms as they develop and redefine the media landscape. This year's report spotlights the growth of Smart Speakers, voice-controlled devices such as the AMAZON ECHO and GOOGLE HOME. Today, 18% of AMERICANS 12+ (an estimated 51 million people) live in households that have at least one Smart Speaker. This means that Smart Speaker ownership has more than doubled from 7% just one year ago, which shows Smart Speaker adoption at a faster rate than the early days of the smartphone, which showed only 4% growth in a comparable timeframe.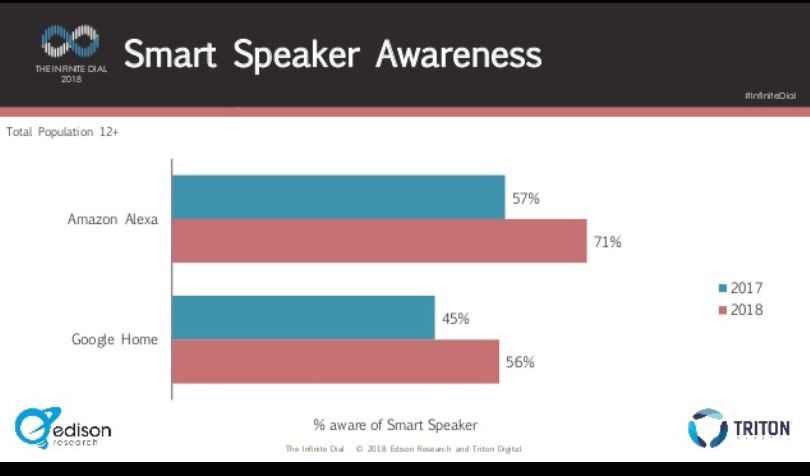 Among the many other highlights:
Weekly online radio audience is now 180 million AMERICANS, or 64% of AMERICANS 12+, due to growth in SPOTIFY, APPLE MUSIC, and ALEXA-driven AMAZON MUSIC listening
Despite the rise of other services, PANDORA continues to lead in the online radio space – 31% of AMERICANS have listened in the past month
The portion of AMERICANS 12+ using FACEBOOK has declined from 67% to 62%
As Smart Speaker ownership rises (18% of AMERICANS own a Smart Speaker), there is a continued decline in standalone radio ownership (29% do not own an AM/FM radio in the home)
44% of AMERICANS 18+ have ever listened to an audiobook
"With twenty years of historical data, the INFINITE DIAL is the authoritative source in the growing and dynamic online audio industry," said TRITON DIGITAL Pres./Market Development JOHN ROSSO. "TRITON is pleased to once again partner with EDISON RESEARCH to uncover and present this data." EDISON SVP noted, "With the surge in Smart Speaker ownership, and the continued growth of podcasting and streaming audio, it is more important than ever for brands to have a holistic audio strategy."
See more of the study here.
---
This Article Was Originally Posted at www.allaccess.com
https://www.allaccess.com/net-news/archive/story/174710/infinite-dial-study-unveils-the-latest-research-in