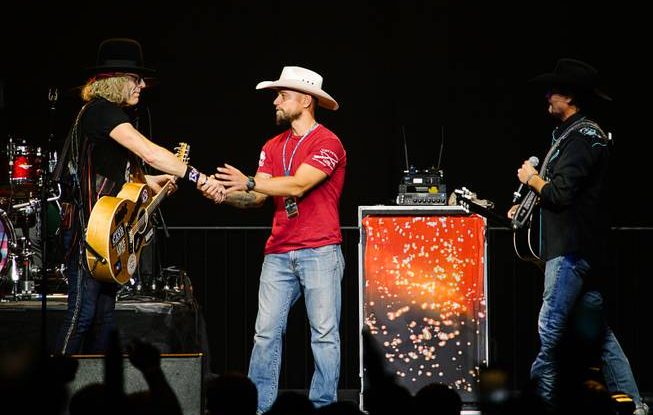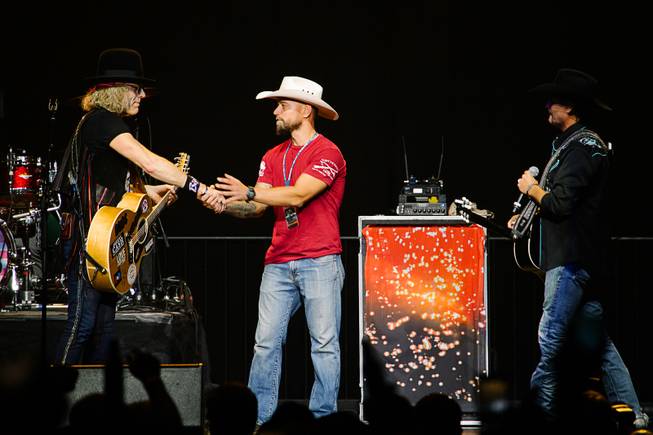 Wade Vandervort
Friday, Oct. 20, 2017 | 1 a.m.
Less than three weeks after the largest mass shooting in modern U.S. history took place at a packed Las Vegas country music festival, another valley country show with thousands of attendees on Thursday worked to find healing.
"You've shown that there are people in this community with great big hearts," said John Rich of country duo Big & Rich at the "Vegas Strong: A Night of Healing" event at the Orleans Arena. "You may never be in a room with so many heroes around you ever again."
"We will not stay down and out," Rich added to the crowd of nearly 6,000 attendees.
The Grammy-nominated duo followed Las Vegas local Sierra Black, country music star Cam and Venetian resident Rascal Flatts during the two-hour show, which also featured a tribute video to the victims and first responders of the Oct. 1 shooting at Route 91 Harvest Festival. Fifty-eight people died in the shooting and over 520 more were injured after a gunman fired down on the festival from a 32nd floor hotel room at Mandalay Bay.
The music artists, introduced by local radio hosts from across the Las Vegas Valley, performed an average of three songs each while offering their condolences and support for those on hand.
"Country music loves you, Las Vegas, and we stand with you" said Rascal Flatts lead singer Gary LeVox.
In the upper level club seats, Angelica Cervantes sat with husband Gregorio de la Rosa and children Daisy, 17, and Arturo, 11, as she tried to enjoy a concert dedicated in part to her slain son, Erick Silva.
Working private security at the Route 91 Harvest Festival, Silva, 21, was shot dead as he helped festivalgoers jump over a stageside barricade to seek safety.
After two weeks of grieving over her "worst nightmare come true," Cervantes said she appreciated a night out with her family.
"It was nice that we have this, but it won't bring back my son," she said in Spanish as tears streamed down her face. "We're all struggling very much right now."
Next to the family, Silva's closest former co-workers, Jay Purves and Gina Argento of Contemporary Services Corp., called the man who once worked up to 20 hours a week with them "someone whose memory will always live on."
"Erick was a hero, and while our community is looking to heal after this month's events, we're never going to stop honoring him," Purves said.
At the front of the venue, over two dozen first responders involved in response and rescue efforts during the Oct. 1 tragedy stood — some with their arms crossed and nodding in appreciation while others smiled and danced with the music.
Besides the video montage, one of the largest ovations of the night from those in front came after a simple statement from Rich, urging those in attendance not to live in fear.
"We're going to do things we always do as Americans," he said, as the crowd cheered.
The tickets for the concert were free and all were taken. Organizers accepted donations and profit from food and beverage sales will go toward the primary victims' fund. To date, more than $11 million have been raised by Clark County to help with medical bills and other expenses.
During the show, Fox host Sean Hannity compared the Las Vegas shooting to the 9/11 terrorist attacks. There were also video messages from Clark County Sheriff Joe Lombardo and musicians Garth Brooks and Kid Rock. And President Donald Trump tweeted his support of the concert, using the hashtag #VegasStrong.
The Associated Press contributed to this report.
This Article Was Originally Posted at www.einnews.com
http://www.einnews.com/article/410831917/CmEiQsmxV7dIiSUs?ref=rss&ecode=N1bP1tH84JZ33sYs