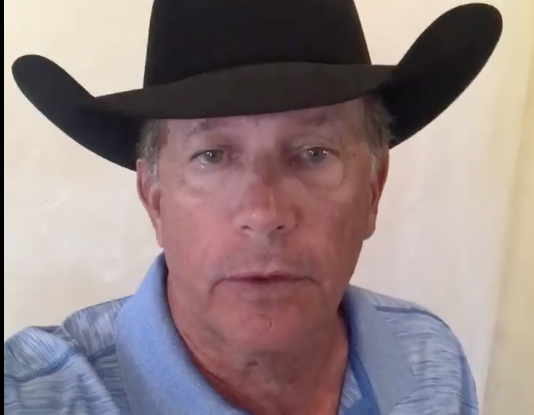 On Oct. 9, the King of Country Music shared a heartfelt video message on the Facebook page of Heroes and Cops Against Childhood Cancer, directed at Bella. "Hey, Bella, it's me, George Strait," Strait says to open a 30-second clip. "Hey, darlin', I heard you weren't doing so well. I just want you to know that I'm thinking about you and I'm praying for you and I hope you get better really, really soon."
Country Singers Who've Been Affected by Cancer
"I just want you to know that I'm thinking about you. And thank you for listening to me and liking my music," he continues. "That makes me very happy. Anyway, darlin', I hope you get better real soon, and remember I love you. Bye, bye darlin'."
Wearing his signature black cowboy hat, a smile spread across Strait's face when he talked to Bella, telling her how happy he is to have her as a fan.
One of the men who started the organization — police officer Damon Cole — shared his thanks to the country legend for making the young girl's day.
"Thank you from the bottom of my heart @GeorgeStrait for doing this for Hero Bella. King George you have a heart of gold brother," the officer says on Twitter.
Strait is never one to shy away from lending a helping hand or comfort when needed. The singer recently made a visit to see residents of Rockport, Texas, offering words of encouragement. Strait owns property in Rockport, which was one of the towns most devastated by Hurricane Harvey.
This Article Was Originally Posted at www.TasteofCountry.com
http://tasteofcountry.com/george-strait-video-message-fan-with-cancer/