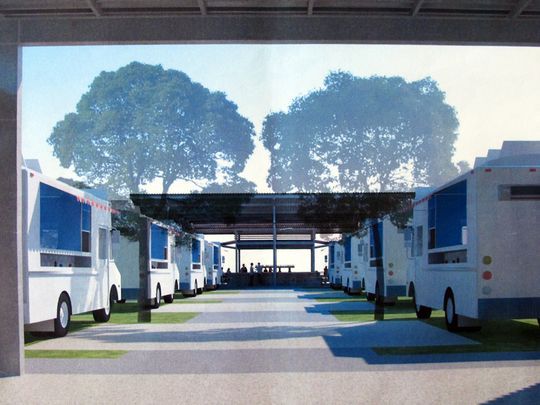 Do I Smell a New Country Music Venue in Naples Florida?
The construction crew is ready to start building the tiki bar, restrooms and spaces for as many as 14 food trucks in a parklike setting with seating along the water's edge at 2080 Becca Ave.
"Completion in September is realistic and aligns with our five-month schedule," Smith said.
The long-awaited news is exciting for Celebration Park owner Rebecca Maddox, who has spent years planning the local destination on vacant lots across Haldeman Creek from her Three60 Market off Bayshore Drive. The project is designed by David Corban Architect of Naples.
Patrons will enter the park from a parking lot off Becca Avenue, stroll through a gate resembling the entrance to the nearby Naples Botanical Garden, and walk down a promenade with food trucks representing a variety of international fares lining both sides. The walk ends at a 62-by-62-foot pavilion and tiki bar, which will have at least a dozen craft beers, wines and Champagnes on tap.
Vendors will be handpicked by Maddox in an effort to offer an eclectic variety of street food. She continues to audition food trucks to find the best.
Maddox said she is "kissing a lot of frogs" in search of princely food trucks to anchor Celebration Park, but she's not ready to make any announcements regarding what businesses or cuisines will make the final cut.
"I'm eating a ton of food right now and meeting a lot of people," she said. "I don't have a dearth of people that want to be in the park."
Maddox said the food truck operators have to have more than just a great product. Each has to be able to invariably meet the demand of parkgoers.
"I know what it takes to consistently make a lot of food," she said.
Celebration Park's groundbreaking and official construction kickoff are scheduled for 3 p.m. Friday.